Maintenance Management Professional
Admission Requirements Program Structure Courses Registration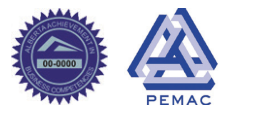 The Maintenance Management Professional (MMP) Certificate program is developed and authorized by PEMAC Asset Management Association of Canada.
The participants learn the knowledge to drive improvements in uptime, production capacity, equipment reliability, safety, environmental compliance, the economic life of assets, return on investment, and effective communication between departments.
This program is ideal for individuals who plan to progress their careers in maintenance supervisor and manager roles.
Admission Requirements
To enroll in a Keyano College Continuing Education course, you must be 18 years of age or older. A minimum of a high school diploma and relevant work experience is recommended; however, we encourage you to discuss your situation and needs with a program administrator.
Program structure
Our Maintenance Management Professional program is only available for Corporate Training request. Please email us or call 780-715-3903 for more information. Successful completion of the eight MMP modules qualifies participants for PEMAC's Maintenance Management Professional (MMP) certification. Participants can gather their transcripts and apply to PEMAC for their certification, and rights to use MMP after their name. When the MMP certification expires the renewal requirements include signing off on the PEMAC Code of Ethics, demonstrating a minimum standard of continuing professional development (CPD), and payment of recertification feeds. Certification fees include PEMAC membership as well as other benefits.
Successful completion of MMP Modules 1 and 6 qualify participants for the PEMAC Maintenance Work Management Certificate. Designed for planners, schedulers, operations, maintenance coordinators and other maintenance personnel, the PEMAC Maintenance Work Management Certificate ensures maintenance management professionals have the skills to make sure the right maintenance work is done on the correct assets, at the right time, using the right resources and tools.
In addition, participants who have completed all of the courses in the MMP program will have the required domain knowledge in maintenance and reliability, coupled with their experience, for PEMAC's globally aligned asset management competency certifications: Certified Technical Specialist in Asset Management (CTAM) or Certified Practitioner in Asset Management (CPAM) certifications.
This program's courses are eligible for the Achievement in Business Competencies (Blue Seal) program, through Alberta Apprenticeship and Industry Training, and you'll earn Continuing Education Unit Credits for both Alberta and Ontario Water/Waste Water Operators.
Courses
We strongly recommend that you complete all courses in order. You can complete this program in one and a half year depending on course availability. A minimum of 80% attendance is required in all courses. The passing grade for all courses is 60%.
Maintenance Management Professional courses
An Integrated Strategy for Maintenance Management - 15 hours, $625
An Integrated Strategy for Maintenance Management is a 15-hour course that teaches you the framework for a strategic approach to business maintenance management. The course draws on elements presented in the Maintenance Excellence Pyramid of Uptime. You will learn how strategy, people, basic care, materials management, performance management, work management, support systems and tools such as Reliability Centered Maintenance and Root Cause Failure Analysis can work together to build a culture of excellence.
Production and Operations Management for the Maintenance Manager - 30 hours, $975
Production and Operations Management for the Maintenance Manager is a 30-hour courses that links maintenance strategies with business operations and production. You'll study production methodologies and apply them to improve business performance and meet the production goals of the organization.
Human Resources Management for the Maintenance Manager- 30 hours, $975
Human Resources Management for the Maintenance Manager is a 30-hour course that explores effective leadership. You learn the role of human resources in maintenance management, legal requirements, recruitment and selection, orientation training and employee development, proper application of performance appraisals, the union management interface, safety in the workplace and managing change.
Financial Management for the Maintenance Manager- 30 hours, $975
Financial Management for the Maintenance Manager is a 30-hour course teaches you how to apply accounting and finance principles in a maintenance management role. You'll learn the four main pillars of accounting (Project Analysis, Budgeting/Forecasting, Cost Analysis for Managerial Decisions and Maintenance, Repair and Operations Inventory) that you'll need to be part of an effective maintenance team.
Maintenance Strategy Development- 30 hours, $975
This module focuses on the elements informing the development of a robust maintenance program, which aims at physical assets performing safely, capably, reliably, and repeatedly to their designed specifications in their given operating context. Introductory topics include failure definitions, the fundamentals of a maintenance program, and asset criticality analysis, followed by the main types of maintenance and their associated tasks. The second part of the course deals with processes and methodologies used to develop a maintenance program. This includes Reliability Centered Maintenance (RCM) and a detailed review of the seven questions, as well as a few other processes. The last part of the course covers the PMO method and additional tools to identify tactics. At the end of the course, participants will have a better understanding of what developing a maintenance program entails, and an informed knowledge of the various maintenance processes and methods used in the industry.
Maintenance Work Management- 30 hours, $975
Maintenance Work Management is a 30-hour course that teaches you how to improve reliability, apply proactive maintenance, use work management tools, and limit interruptions in production. You'll learn the principles of the work management process and the basics of planning, scheduling and work coordination methods.
Maintenance Information Management - 30 hours, $975
This module will demonstrate why collecting and managing maintenance information is important for realizing value from assets and aligning maintenance management with the organization's overall objectives. Participants will learn when and where maintenance information is critical within the asset's lifecycle, and particularly within the maintenance management functions. This module will discuss the processes and tools that create, collect, and manage maintenance information, and how to manage data efficiently and effectively. Upon completion of this module participants will recognize maintenance management processes and information systems that define, collect and, transform data and information to underpin decision-making foundations.
Capstone Project- 30 hours, $975
The Capstone Project is a 30-hour course where through the application of the key learning elements from the previous seven modules, participants apply the principles, latest concepts and techniques to a final project. where you'll apply the principals, concepts and techniques taught in the previous seven modules. Participants will select a project that will audit, assess, and improve your current maintenance departments, develop a workplace maintenance strategy, or resolve a critical maintenance issue within departments.
You can also develop a greenfield maintenance strategy and program with approval from your instructor. This module consists of 2 days in class and around 20 hours of independent work.
Software application courses
Microsoft Project
Microsoft Project is a 21-hour course that teaches you how to track the progress of your projects. You'll learn how you can use Microsoft Project to plan and control your time, money and resources as well as schedule and track every task related to a successful project. You will also use advanced functions to customize a project plan.
Course topics include using drawing tools, setting options, workgroup functions, Project Central, sharing data among programs, multi-project management, cost management and tracking results, resource and task management.
Credit for Prior Experience
Applicants for MMP certification with previous experience or skills in the subject areas covered in the modules can
apply for Prior Learning Assessment and Recognition. This can reduce the amount of classroom time required to obtain the MMP certification. See the Prior Learning Assessment and Recognition section of the MMP Course Training Standard on the PEMAC Asset Maintenance Association of Canada website for full details.


Required Textbooks
Please visit PEMAC Asset Management Association of Canada Bookstore for textbook and workbook information.
Instructor Biography
Dennis Heinzlmeir
Dennis is a maintenance and turnaround professional grounded in more than 30 years of hands-on experience involving industrial projects. Extensive background in project management, quality, safety and project controls. His experience covers the whole life cycle of projects from the Feasibility Study, Front End Engineering, Detailed Engineering, Construction, Commissioning and Start-up and Operations and Maintenance. He was employed with one of Canada's largest maintenance providers for over 18 years and spent over 12 years living in Fort McMurray. He has been a member of PEMAC for over 14 years, and is currently the President of the Alberta Chapter and a Director of the Fort McMurray Chapter. He has been an instructor for PEMAC since 2010. He is currently the Marketing and Operations Director at Akron Engineering Consultants Group Ltd., which provides the industry with consolidated services in civil, structural, electrical, mechanical engineering, maintenance, project and construction management. Akron is located in Fort McMurray.
Canada-Alberta Job Grant
The Canada-Alberta Job Grant provides funding to Alberta business to help hire and train employees. You can receive up to $10,000 per employee per year for skills training. Keyano College has a list of pre-approved courses and program areas that are eligible for the grant. Visit our Canada-Alberta Job Grant webpage for information on how to apply and employer benefits.
Registration
Our Maintenance Management Professional program is only available for Corporate Training request. Please email us or call 780-715-3903 for more information.