We want you to have the best experience possible at Keyano College. If you've applied and been accepted into a credit program at Keyano College, you must register for your courses. As a new student, we want to help you be as prepared as possible for your coming studies, so please review the items below.
Online Orientation
We want to make sure you get off to a great start on your college career! Online orientation activities are offered to help you find the resources you need, meet our staff and faculty, and connect virtually with your peers. Visit our online orientation page to get started!
Use a Selfie for your Student ID card
Send us your selfie for your Student ID card.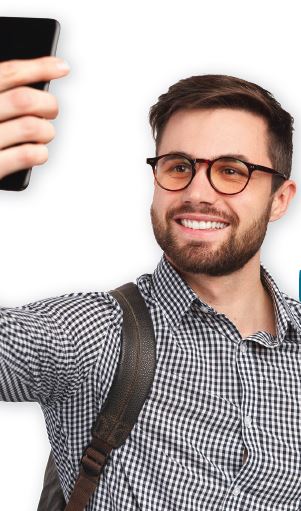 Snap your selfie! (It should be just of you and preferably against a plain white background. No hats, friends, sunglasses, or silly faces.)
Send your JPEG image to StudentID@keyano.ca through your Keyano email account with your Name and Student ID number in the subject line, and should be no bigger than 1.2MB.
You'll be sent an email when your ID is ready to pick up, make sure to bring your government issued photo ID.
Please note, returning students are not required to get a new Student ID. If you have lost or broken
your Student ID, a replacement can be printed for a charge of $25.


Questions regarding the collection of personal information can be directed to: Registrar, Keyano College
8115 Franklin Avenue, Fort McMurray AB, T9H 2H7 | 780.791.4800 • registrar@keyano.ca
Collected personal information is protected from unauthorized access, collection, use and disclosure and is collected and used in accordance with the Freedom of Information and Protection of Privacy Act.
Starting College Checklist
Summer Prep September
Access your Self-Service account selfservice.keyano.ca
*Register for your courses
View and print your schedule
View your tuition and fees
Set up your Student Email
Apply for Student Housing
Find out costs and where to access financial aid
Read through Program Specific Information (included in your Welcome Package)
Get a Student ID card (for new students) at the Office of the Registrar or send us your selfie
Pay your tuition and housing fees by the due date.
Get your parking pass and check out textbooks at the bookstore
Attend Welcome Day:

-meet instructors and fellow students

-find out about services offered at Keyano
Waive Health & Dental Plan (if alternate coverage exists) mystudentplan.ca/keyano
Attend Classes
Use a semester calendar: Add important dates, tests, assignments and final exam dates
Get a free Syncrude Sport and Wellness Centre membership (full-time students)
Check out your iLearn Moodle account: ilearn.keyano.ca
Add money to your printing account at the bookstore
Access the wireless network on your device – log-in to computers on campus
Finalize your course schedule before the Last Day to Add a Class and the last day to Drop a Class
Apply for Scholarships and Awards