The Students' Association of Keyano College (SAKC) provides you with services, leadership opportunities, and support. We advocate for Keyano College students on topics such as tuition, academics, and security on campus. We operate the King's Lounge, the Student Health and Dental Plan, and Locker Rentals on campus.
Please note that in April 2021 the Board of Directors voted to close the Used Bookstore. We no longer will accept or sell used books. We do still manage the lockers, which can be purchased on our website.
SAKC Board of Directors Election
The last election was held in March 2023 - at which time the President, Vice President of Academics, Vice President of Operations and Finance, Vice President of Student Affairs, and two Directors were voted in.
Please visit our website for more information on how to join our team.
Fall Orientation 2023
The SAKC is excited to welcome the new, incoming students for the Fall 2023 Orientation during our SAKC W.O.W, Week of Welcome! Events will be held throughout the week for our new and returning students.
Monday, August 28th - Keyano College Orientation,
Tuesday, August 29th - Meet the Faculty and Student Information Sessions
Wednesday, August 30th - Movie Night! King's Lounge
Thursday, August 31st - Karaoke Night! King's Lounge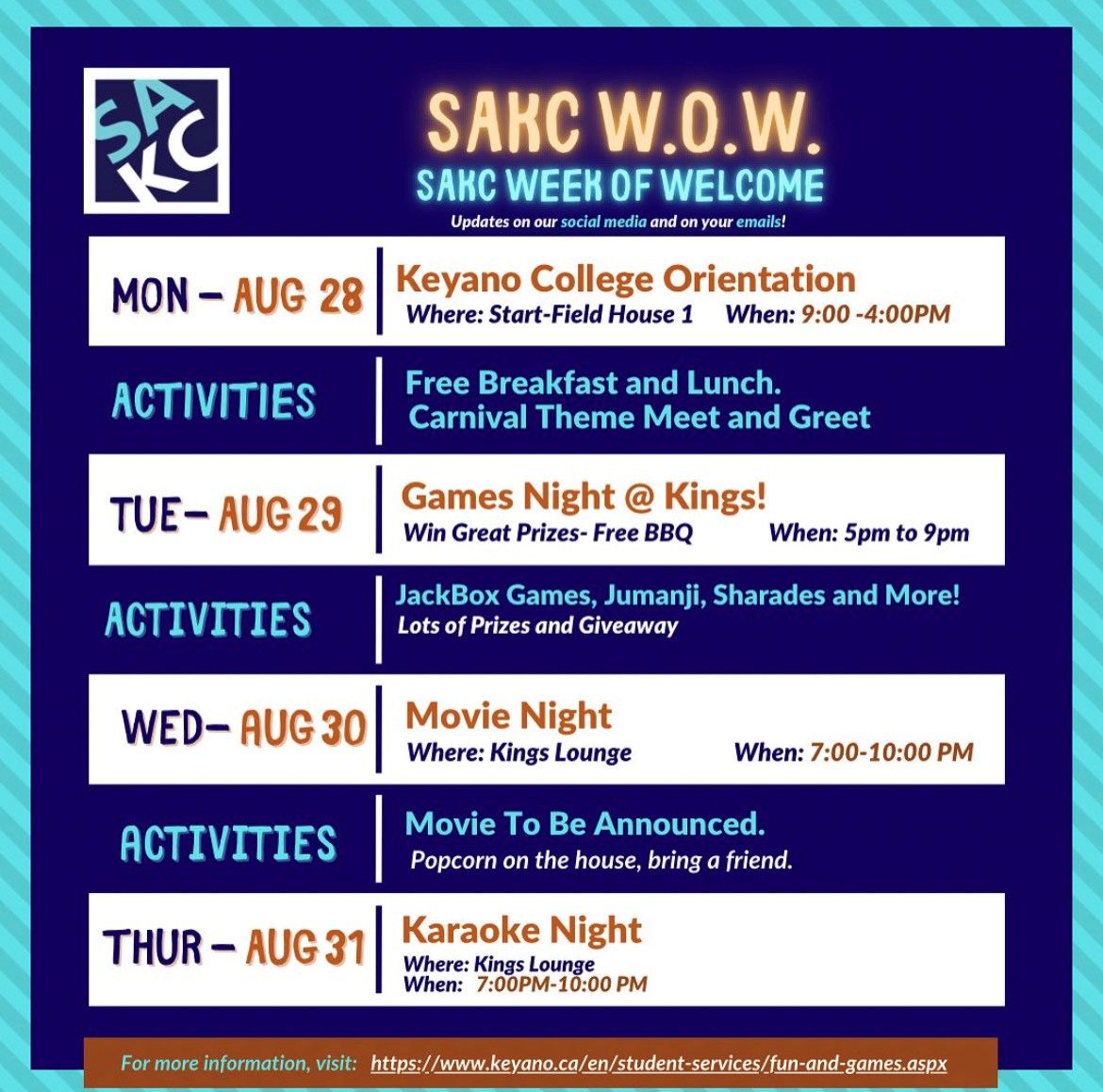 Please check out our Instagram, yoursakc, for more information!
Volunteer with us
If you'd like to get involved with activities on campus, please email us at admin@sakc.ca
Fees
Students' Association Fee
The Students' Association fee is a mandatory fee that entitles students to Students' Association membership and all the benefits offered. Full-time students are assessed $7 per week of studies. Part-time students are required to pay $3.50 per week of studies. Fees are assessed at the time of registration and are non-refundable and non-transferable.
The Students' Association has implemented a building fund for the students in the Fort McMurray campuses. It is $1.12 per week for full-time students and $0.56 per week for part-time students.
Students at regional learning centres pay the Associate Membership fee of $15 per term. Auditing students and senior citizens are not required to pay Students' Association fees.
Health and Dental Plan Fees
Eligible full-time students are required to pay $126 per Fall and Winter semester (total of $252) for one complete year of the mandatory Extended Health & Dental plan offered by the Students' Association of Keyano College (SAKC). This fee is assessed along with tuition and related fees during the registration process of the Office of the Registrar. Students with the plan may also purchase coverage for a spouse and/or dependent(s). Students already covered by an alternate plan (through parents, spouse, or employer), have one opportunity per year to opt out of the SAKC Benefits plan. They must do so within the first two weeks of the start date of their program by completing a waiver form online. Opt out waivers will remain on students' records for all future academic years. Students wishing to reactivate coverage for the next academic year must complete an enrollment form to opt in. Visit Student Care's website and choose Students' Association of Keyano College for additional information regarding deadlines, plan details, and to complete enrollment or opt out forms.
Awards
Each year, we give out a number of awards to students, staff, and faculty at Keyano College who show passion for the welfare of the all students. We also give out scholarships and bursaries.