You can order graduation portraits and frames to celebrate your academic achievements at Keyano College.
Portraits
Keyano College offers a graduation portrait program through Lifetouch called Prestige Portraits. Individual graduation portraits are taken in a studio setting with a professional photographer.
March 17-19 at the Quality Inn, 424 Gregoire Drive.
March 20-23 at Keyano College in the Elements Meeting Room.
April 20-22 at the Quality Inn, 424 Gregoire Drive.
Appointments
Visit the Prestige Portraits website to book your appointment.
Select a session on the left-hand side = University (20 min) ( $30.00)

Select the date from the blue dates on the calendar

Select your time

Complete the Registration Form

CONFIRM your appointment "BOOK IT " and follow the prompts to book it.
A confirmation email is sent once an appointment is booked. If the appointment needs to be changed or cancelled you can access your profile through the link sent with the confirmation email.
A reminder email will also be sent to you 2 days before your scheduled appointment.
In about 3 to 4 weeks you will receive your proofs in the mail via Canada post. A catalogue is included to select a portrait package. You can order their package via the order form, online, calling our customer service line or by coming to our office in west Edmonton.
Prices
The sitting fee for graduation portraits is $30, paid at the time of the appointment. We accept payment by cash or cheque only.
Frames
The Keyano College Framing Service can help you showcase your achievement by providing high quality diploma frames.
Frame options
Brentwood – $76
A scoop design finished in a rich burgundy shade with black accents and a black lip on the inside edge of the moulding.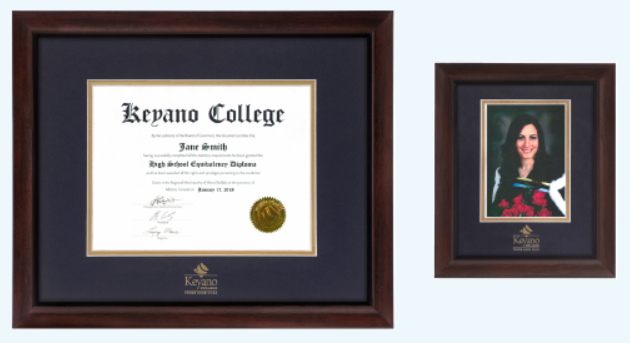 Linear – $84
A contemporary design, flat on top with a step edge pattern on the outside of the moulding, finished in a rich mahogany shade with black highlights.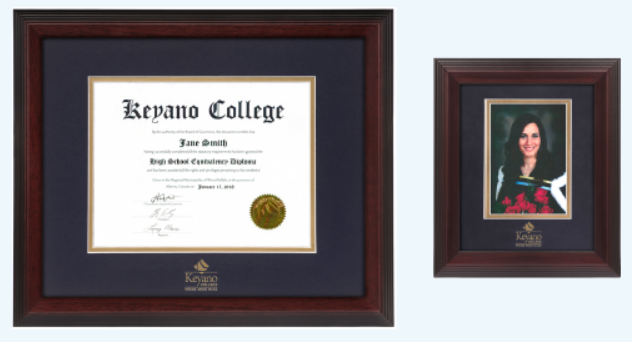 Order form
Place your order by submitting a completed order form to the Keyano College Bookstore.
Pickup
Pick up your frames any time after convocation at the campus Bookstore.