Student life can be challenging in many ways. Keyano College has resources to support your mental health and well-being. You can get direct access to counselling through Wellness Services.
Learn how to book an appointment and access other support resources.
Book an appointment After Hours Support Mental Health Coordinators Wellness Services Workshops
Colours Through My Storm
Colours Through My Storm is about you... or someone you care about. We've all had those stormy days where it's difficult to see when the storm will pass. If you've experienced this or recognize that your friend is struggling, don't hesitate - be the support they need, or have the courage to seek the help you need. Keyano College will help you see the light through the storm and put you and your loved ones' mental wellbeing at forefront.
Indicators of Distress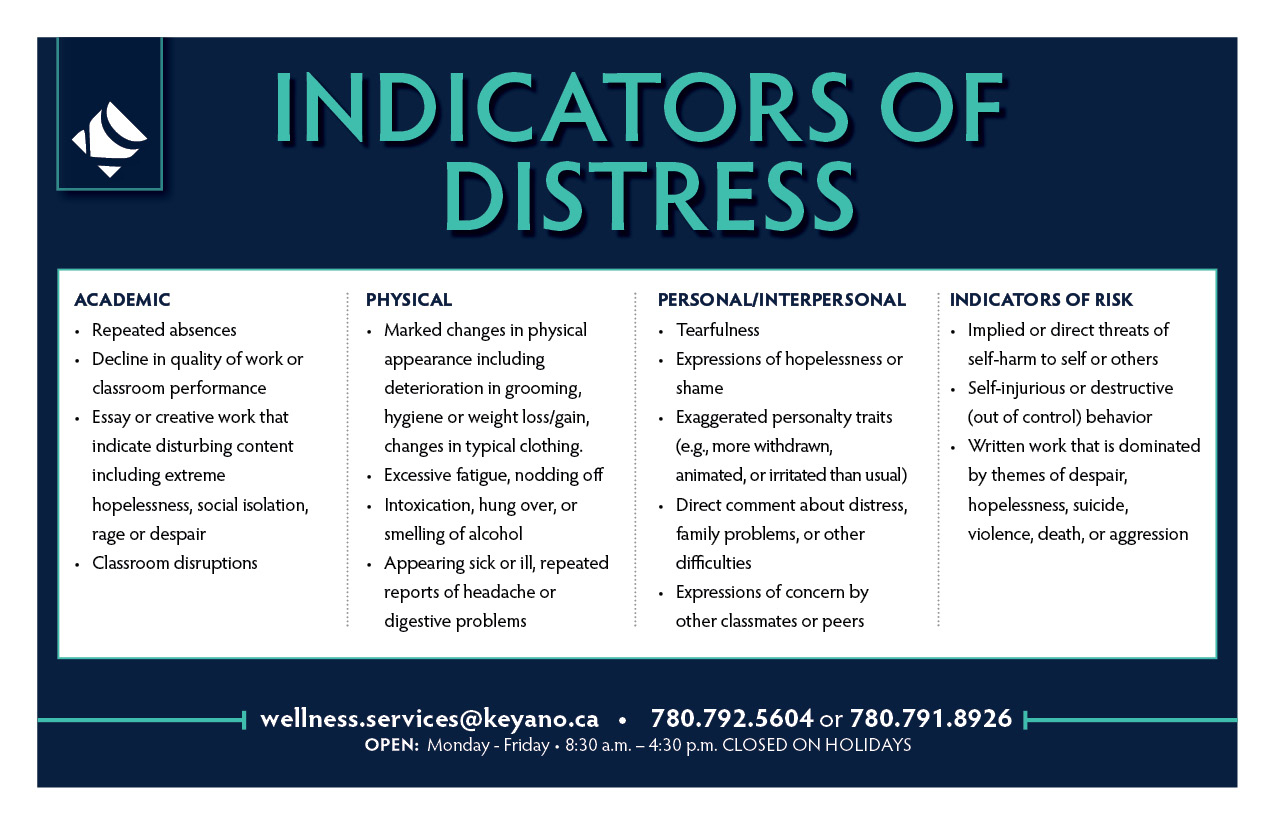 Introducing The Early Alert Process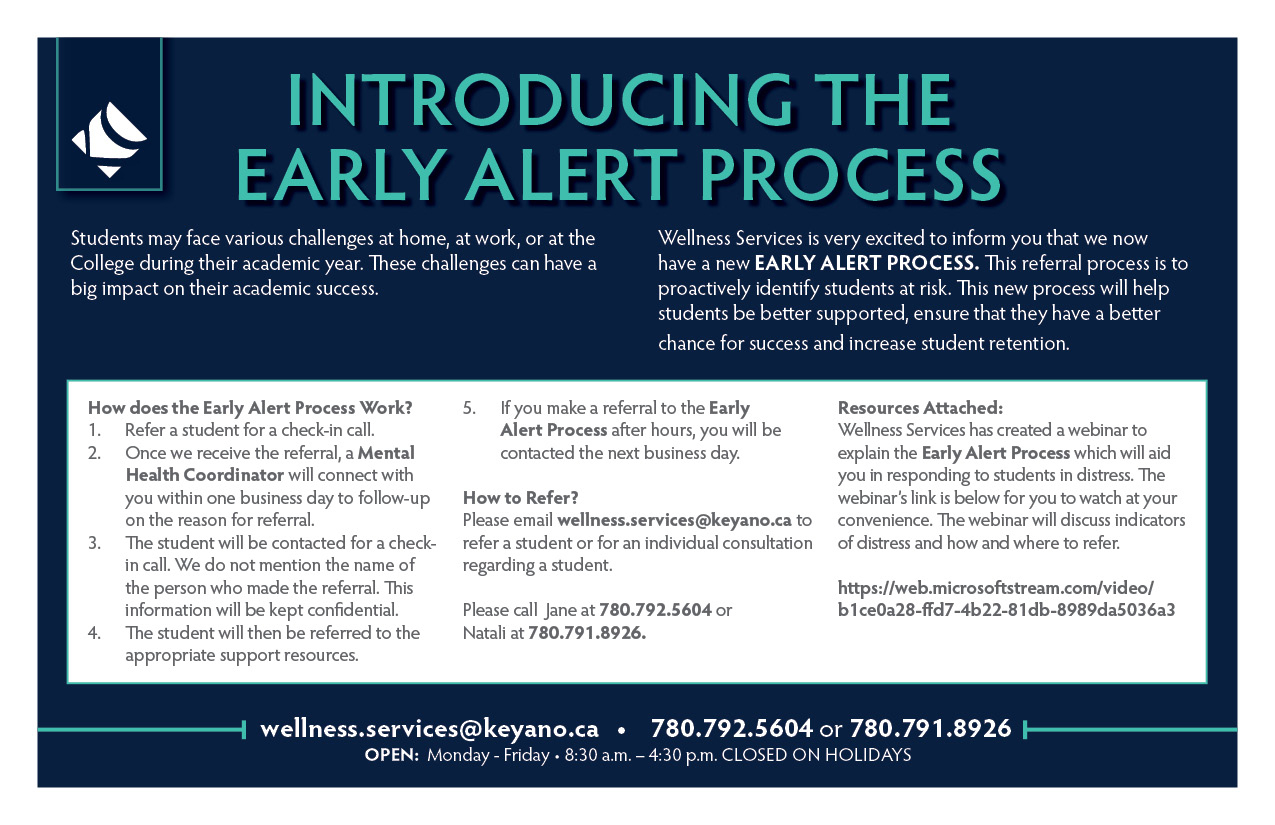 Location
Clearwater Campus, room 260.
Hours
Monday to Friday, 8:30 a.m. to 4:30 p.m.
Closed for lunch from 12:00 p.m. - 1:00 p.m.
Book an appointment
You can book online, call, email or visit us in person to book a counselling appointment, access resources or get more information.
Phone: 780-791-8934
Toll-free: 1-800-251-1408

After hours support
If you are in immediate danger – about to seriously harm yourself or someone else – please call 911. If you are on campus, call Campus Security at 780-791-4911.
You can use the following support services any time if you are experiencing stress, emotional distress, loneliness, suicidal thoughts, violence or sexual assault. Caring support is available 24 hours a day, 7 days a week.
Mental health
Mental Health Help Line – 1-877-303-2642
SOS 24/7 Crisis Line – 780-743-4357
Violence and sexual assault
All members of the College community have the right to learn, work, teach, and live in an environment where they are free from all forms of harassment, discrimination, and violence. Keyano College is dedicated to investigating complaints that impact the rights of all individuals and will hold accountable individuals who contravene our Sexual Violence Policy or other relevant policies.
Victim Services – 780-788-4250
Sexual Assault Crisis Line – 780-791-6708
Family Violence Crisis Line – 780-743-1190
SOS 24/7 Crisis Line – 780-743-4357
Community resources
211 Alberta (confidential access to all community resources) – Dial 211
National Eating Disorder Information Centre
NEDIC is the National Eating Disorder Information Centre, and is a free resource to help students who are living with and affected by eating disorders. This is a free Canadian toll-fee helpline, and can be accessed via phone or instant chat service.
Mental Health Coordinators
Our qualified team of mental health specialists is here to support you.
Natali Levasseur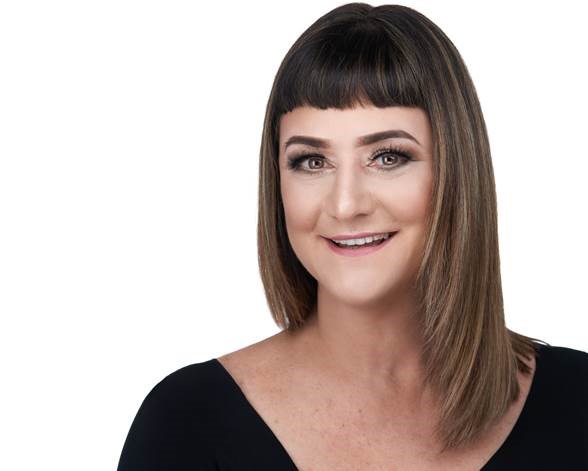 Natali is a registered psychologist with 31 years of experience in clinical and school psychology. Fluent in French and English, Natali promotes mental health and wellness, leads many researched-based program at Keyano College. She is integrating community services into Keyano College for the past three years. She was awarded the 2016 Bea Wickett Award from the Psychology Foundation of Canada and the 2015 Workplace Wellness Award from the Canadian Mental Health Association (CMHA) for her contributions to education, mental health and the workplace. Natali is trained in Cognitive Behavior Therapy, Dialectical Behavior Therapy, Mindfulness, EMDR, Complex Trauma, and Grief and Loss.
Jane Barter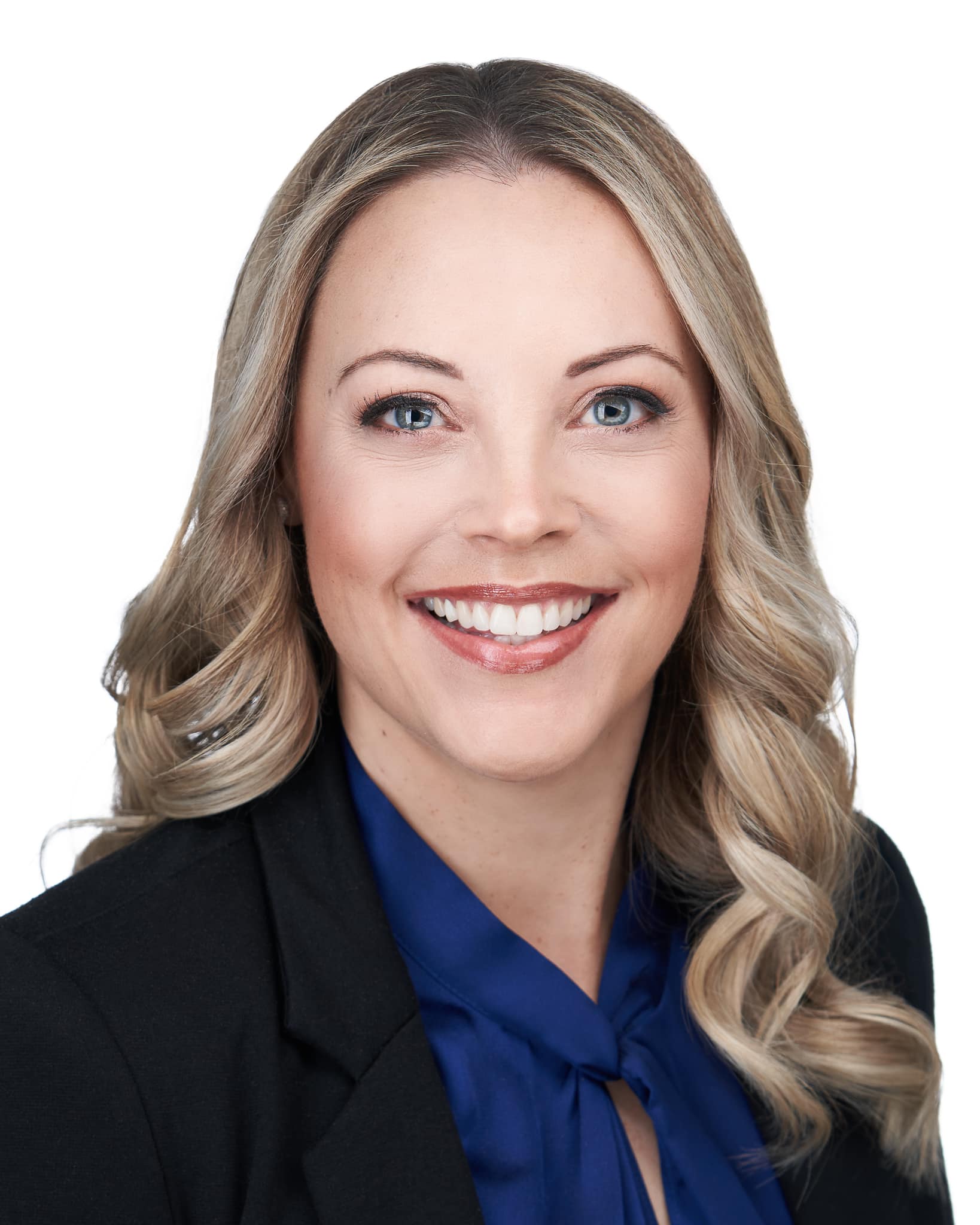 Jane is a Registered Social Worker, MSW. As the former Director of the Canadian Mental Health Association of Wood Buffalo, Jane brings 21 years of expertise and leadership in mental health and wellness. Jane is the 2016 recipient of CMHA's President Award for Exemplary Service and was awarded both a Leadership Award and Instructor of the Year by College of the North Atlantic. As a Registered Social Worker, provincial CMHA Psychological Health and Safety Advisor, and psychosocial coordinator of services for Aboriginal Communities and emergency responders, she is passionate about bringing wellness to all. Jane instructs post-secondary mental health literacy, promotes psychosocial well-being, and supports the college student association to promote health and wellness across campus. Jane is trained in Cognitive Behavior Therapy, Dialectical Behavior Therapy, Mindfulness, EMDR, Complex Trauma, and Grief and Loss.
Wellness Services workshops
Below you will find workshops available to students, staff, and faculty.
Mindfulness 30 Minute Workshops
When teaching mindfulness workshops and speaking with students, this is something I often hear. The hecticness of life makes it hard to slow down and build a meditation practice.
Mindfulness means paying attention to the present moment without judging it. The practice helps us reduce stress, regulate thinking and emotions, boost working memory and focus, and improve our relationship satisfaction.
While social distancing measures create many different challenges for us, perhaps we can use this as an opportunity to relate with the present moment differently.
In this workshop, you will:
Learn about the foundational attitudes of mindfulness
Practice guided meditations
Engage in online discussion
This workshop is open to current students, staff, and faculty.
Workshops will be every Wednesday from 12 p.m. – 12:30 p.m., beginning on September 9, 2020.
Mindfulness Group 5 Sessions
Why mindfulness? Mindfulness can reduce stress, anxiety, increase performance, and help us regulate our emotions.
Join your peers in this 5-week course on mindfulness. In this course you will learn about different ways in which we can practice and incorporate mindfulness in our everyday life through common teaching's, guided meditation, debriefing your experiences, and sharing with others.
This group is open to current Keyano students only. Students are encouraged to attend all five sessions.
Group sessions will begin on Tuesday September 15, 2020 at 12 p.m. -1 p.m., and will run every Tuesday for five weeks.
Stress and Anxiety Management Workshop
Is your daily stress feeling overwhelming?
Learn strategies to develop a stress mindset and explore healthy coping skills in this 50-minute workshop.
This will be offered to all students, staff, and faculty. All sessions will be offered through zoom and each session will be the same.