The health, safety, and welfare of all individuals working within Keyano College environment is of vital importance. As such, Security is provided on campus 24-hours a day to all Keyano properties, including off campus residences.
Services include, general patrols, complaint investigation, general information, emergency first aid, lost and found, and parking management.
We ask all to report any incidents or concerns right away. Keyano appreciates your cooperation in helping to make our campus safe.
Security Operations Centre is located just inside the main entrance off King Street.
To contact security please call 780-791-4911.
Security & Safety Management
Emergency Contact Numbers
To contact security please call 780-791-4911
Security
Active Shooter
This describes what to do in an active shooter event. Remember during an active shooting to RUN. HIDE. FIGHT.
Be Informed
Sign up for an active shooter training.
If you see something, say something to the authorities right away.
Sign up to receive local emergency alerts and register your contact information with any work-sponsored alert system.
Be aware of your environment and any possible dangers.
Make a Plan
Make a plan with your family and make sure everyone knows what to do if confronted with an active shooter.
Wherever you go look for the two nearest exits, have an escape path in mind and identify places you could hide if necessary.
Understand the plans for individuals with disabilities or other access and functional needs.
During
RUN and escape if possible.
Getting away from the shooter or shooters is the top priority.
Leave your belongings behind and get away.
Help others escape, if possible, but evacuate regardless of whether others agree to follow.
Warn and prevent individuals from entering an area where the active shooter may be.
Call 9-1-1 when you are safe and describe the shooter, location and weapons.
HIDE if escape is not possible.
Get out of the shooter's view and stay very quiet.
Silence all electronic devices and make sure they won't vibrate.
Lock and block doors, close blinds and turn off lights. Do not block windows with paper or cardboard. This allows the shooter insight to where individuals are located.
Don't hide in groups. Spread out along walls or hide separately to make it more difficult for the shooter.
Try to communicate with police silently. Use text message or social media to tag your location or put a sign in a window.
Stay in place until law enforcement gives you the all clear.
Your hiding place should be out of the shooter's view and provide protection if shots are fired in your direction.
FIGHT as an absolute last resort.
Commit to your actions and act as aggressively as possible against the shooter.
Recruit others to ambush the shooter with makeshift weapons like chairs, fire extinguishers, scissors, books, etc.
Be prepared to cause severe or lethal injury to the shooter.
Throw items and improvise weapons to distract and disarm the shooter.
After
Keep hands visible and empty.
Know that law enforcement's first task is to end the incident and they may have to pass injured along the way.
Officers may be armed with rifles, shotguns or handguns and may use pepper spray or tear gas to control the situation.
Officers will shout commands and may push individuals to the ground for their safety.
Follow law enforcement instructions and evacuate in the direction they come from unless otherwise instructed.
Take care of yourself first, and then you may be able to help the wounded before first responders arrive.
If the injured are in immediate danger, help get them to safety.
While you wait for first responders to arrive, provide first aid. Apply direct pressure to wounded areas and use tourniquets if you have been trained to do so.
Turn wounded people onto their sides if they are unconscious and keep them warm.
Consider seeking professional help for you and your family to cope with the long-term effects of the trauma.
For more information, please see the short video below. Please be advised, graphic material.
Critical Incident Response
All incidents are to be reported to Security or complete the fillable Incident Report Form that will go directly to Keyano Manager, Security Services.
Submit an incident report online
Click the button above
Select a group - Security
Write a new online report
Continue and follow the prompts
Emergency Red Phones
There are 6 red phones located across campus that rings directly to Security for assistance required.
Directly outside of Security at CC153
Library Main Entrance CC166
Clearwater Hall Main Lobby
Across from Info Commons - Syncrude Technology Centre
Upstairs STC Elevator by S204
Upstairs between CC220 and the elevator
Fire Alarm
There are 2 stages during a fire alarm. Please follow the voice instructions from the Public Announcement System (PA).
Stage 1 - Prepare to evacuate building
Stage 2 - Evacuate the building immediately
Fire Wardens are responsible for clearing their areas of students, staff and visitors while checking off All Clear - Check Sheet if evacuation is warranted.
Stage 1- Alarm Sounds with warning instructions to standby
Employees please follow instructions from PA
Fire Wardens - gather check off sheet, manifest, radio, vest etc
Fire Department arrives and will assess scene
If evacuation is not required All Clear will be announced over PA. Students, staff, and visitors will resume normal activities.
If evacuation is required, the Alarm system will change to stage 2.
Stage 2 - Alarm system changes from warning to evacuation.
Employees follow PA instruction to evacuate to their respective muster points.
Fire Wardens - complete headcount of students, staff and visitors from there area and radio to the Chief Safety Warden.
Students, staff and visitors are required to turn off lights on evacuation
Fire Wardens to verify areas clear on their exits
Contact individuals missing from the Muster Point (as they may be either inside the building or at another Muster Point)
Employees await the All-Clear from Fire Wardens who will receive the ALL CLEAR from Emergency Services or Manager, Security Services
Lock Downs/Hold and Secure
A hold and secure the threat is outside of campus facilities. (The incident is in general vicinity of the college, or very close to college property).
A lockdown of campus buildings is an emergency procedure to secure and protect you in the event of an immediate threat inside campus facilities such as a violent intruder.
If you have any questions about emergency procedure and protocols about Keyano College please do not hesitate in contacting the Security Manager at (780) 713-7970.
Lockdown
Lockdowns are put in place when a hostile or armed intruder is believed to be in the premises and occupants are at risk. Lock downs also require immediate intervention and response from Law Enforcement.
A lockdown is put in place when it is safer to stay in an area that can be secured than it would be to move through the building where you may encounter the potential threat. Instruction to lock down will be given over the public address system or from Security personnel.
Lockdown alert may be issued through:
• PA System
• Campus Security
• Campus Administration
• Colleagues
• By radio
1. If it is safe to do so, exit the building immediately, move away from the immediate path of danger and call 911.
2. If a safe exit is not possible, go to the nearest room and;
Close, lock and barricade the door
Close window shades
Turn off lights
Silence cell phones, radios, and computers
Stay quiet and out of sight
Do not open the door
Remain in place until an "all clear" is given by the RCMP
When the police arrive, their priority is to arrest the intruder as quickly as possible. When the intruder is arrested, police will coordinate with administration and campus Security Manager to terminate the lockdown.
The Security Manager will complete a debrief with Executive Team and disseminate information to students, staff and visitors and community.
If you are approached by the media, refer all Keyano College related media questions to the Director, Marketing and Communications.
Hold and Secure
Hold and Secure is used when it is required to secure the college due to an emergency situation occurring outside of the college. In this situation, all exterior doors are locked and monitored, classes and normal scheduled activities/tasks may continue to function normally.
Hold and secure announcement will be broadcast over the PA system
Students and staff can continue working as normal and wait for further direction
Once the threat has been contained Security Manager or Facilities Director will lift the Hold and Secure, and open exterior doors.
The Security Manager will complete a debrief with Executive Team and disseminate information to students, staff and visitors and community.
Lost and Found
Keyano College is not responsible for lost or stolen items, however we will do our best to return items if found.
Lost and Found Procedure
Lost and found items will be stored in the Security storage.
Clothing, bottle, textbooks, electronics are kept in Lost and Found for 30 days. If unclaimed, goods will be donated.
Keys are kept for 30 days. If unclaimed, the keys will be separated and discarded separately.
Cash is kept for 30 days. If unclaimed, it will be donated to SAKC, or charity of Keyano College's choice.
Debit/Credit Cards not in a wallet are kept for 24 hours. If unclaimed, Security will call the number on the back, identify themselves and inform the bank the card will be cut up as it is unclaimed.
Wallets without any government issued ID, will kept for 30 days. If unclaimed, any cash will be donated.
Wallets with government issued ID will be kept for 30 days. Every effort will be made to find the individual, if unclaimed after 30 days, wallet will be turned over to the RCMP.
Lost Item
Once item is noticed as lost, individual will report this to security.
Security will provide individual with Keyano College Lost and Found Form to complete so we can track missing items.
Security will check Lost and Found room for the item. If item is found, Security will return the item to the owner.
Individual will be advised if the item is not found. They can check back in 24-48 hours after the cleaners have completed their rounds. Cleaners will return any found items to security they find during their rounds.
Found Item
Staff or College Community can return Lost and Found items to Security Office.
Security will accept item and fill out the Keyano College Lost and Found Form.
Security will review lost items and attempt to return item to its owner.
SafeWALK Program
What is it?
SafeWALK is a program Security Services offers to escort you "to" and "from" anywhere on Keyano College Campus. This service is available 24 hours a day, 365 days a year to all students, faculty, staff, and visitors.
How can I use SafeWALK?
If you intend to utilize this service there are various ways to request, initiate, or schedule a SafeWALK.
By contacting Security Services directly at (780)-791-4911
Make an "in person" request by attending Security Operations Centre located in CC153
By email to security@keyano.ca
School Messenger
SchoolMessenger is Keyano College's communication tool for students, staff, faculty, and community members to receive urgent and important messages; such as safety alerts, college closures, work disruptions, and more. Messages will be sent through either SMS (text), email or phone, depending on the situation. Make sure to visit the SchoolMessenger page and find out how to sign up.
Parking Fees, Fines, and Map
Parking Fees
Parking Fee Structure

| Type of Pass | Cost | GST | Total |
| --- | --- | --- | --- |
| 1 Year Staff Reserved | $226.42 | $11.32 | $237.74 |
| 1 Year General | $183.96 | $9.19 | $193.15 |
| 2 Semester | $147.17 | $7.35 | $154.52 |
| 1 Semester | $73.59 | $3.67 | $77.26 |
| 3 Month | $56.60 | $2.83 | $59.43 |
| 2 Month | $37.74 | $1.88 | $39.62 |
| 1 Month | $23.59 | $1.17 | $24.76 |
| 2 Week | $12.26 | $0.61 | $12.87 |
| 1 Week | $6.13 | $0.25 | $6.38 |
| Daily | $2.00 | $0.00 | $2.00 |
Hourly/Daily Parking
HonkAPP
Parking Services is pleased to offer Honk Mobile for daily and permit parking at Keyano College. Download the HONK app, and pay for your parking with ease. The best part- HONK will notify you by text message 15 minutes before your parking time expires which allows you to purchase additional time directly through the app should you require it.
Download the Honk App from your App Store. Available for iPhone and Android.
How to use HONKAPP
Download and create your free Honk account
Add your license plate and payment method
Find your zone in the app, or on signage in the lot
Select the time you want to park for, confirm your information and hit pay
Add more time from anywhere
HonkTAP
For safety and protection from inclement weather HonkTAP signs will be installed in Keyano Facilities Main Lobbies. You can tap your phone or scan the QR code on the sign to pay for your parking without downloading the app. Check out the video for more information.
Tap or scan your phone for a quick guest checkout experience.
Find the sign in the parking lot - tap or scan your phone
Follow prompts on-screen
Select time, enter license play and payment information
Opt-in for email receipt
Long Term Permits (Monthly, Semester, 2 weeks, etc)
Keyano is now taking payment for all permits though Honk. Permits can be found in the "monthly" section of the HonkAPP or via the Honk website.
If you would like to purchase a permit, you must download the app and create an account with an email address, license plate, and form of payment (Honk accepts all major credit cards, apple pay, and Visa/Mastercard Debit).
Staff
Reserved Staff Parking Permit
Prior to purchasing your parking permit, you must fill out the reserved parking application form. Once this has been approved, you will receive a notification to make payment through Honk Mobile.
This is a monthly subscription that will automatically renew at the start of each month. You will be billed at the start of every month. You must cancel before the end of the month in order stop payment for future months. Partial months are not prorated. Reserved staff parking is available in LOT D only.
General Staff Parking Permit:
Prior to purchasing your parking permit, you must fill out the general parking application form. Once this has been approved, you will receive a notification to make payment through Honk Mobile.
This is a monthly subscription that will automatically renew and bill your credit card at the start of each month. You must cancel before the end of the month in order stop payment for future months. Partial months are not prorated. General staff parking is available in lots A, B, C, F & SEIC A&B.
Students
General Student Annual, Semester, Monthly & Weekly Parking Permits: Students can purchase a variety of permits through Honk. These permits DO NOT automatically renew. Students who wish to purchase additional permits can re-purchase at their convenience.
All permits can be found in the app by entering the zone ID (last 4 digits in the links above) or by searching the address and clicking on "monthly" beneath the search bar OR by searching on the map (upper right hand corner of the app).
Parking Lot Map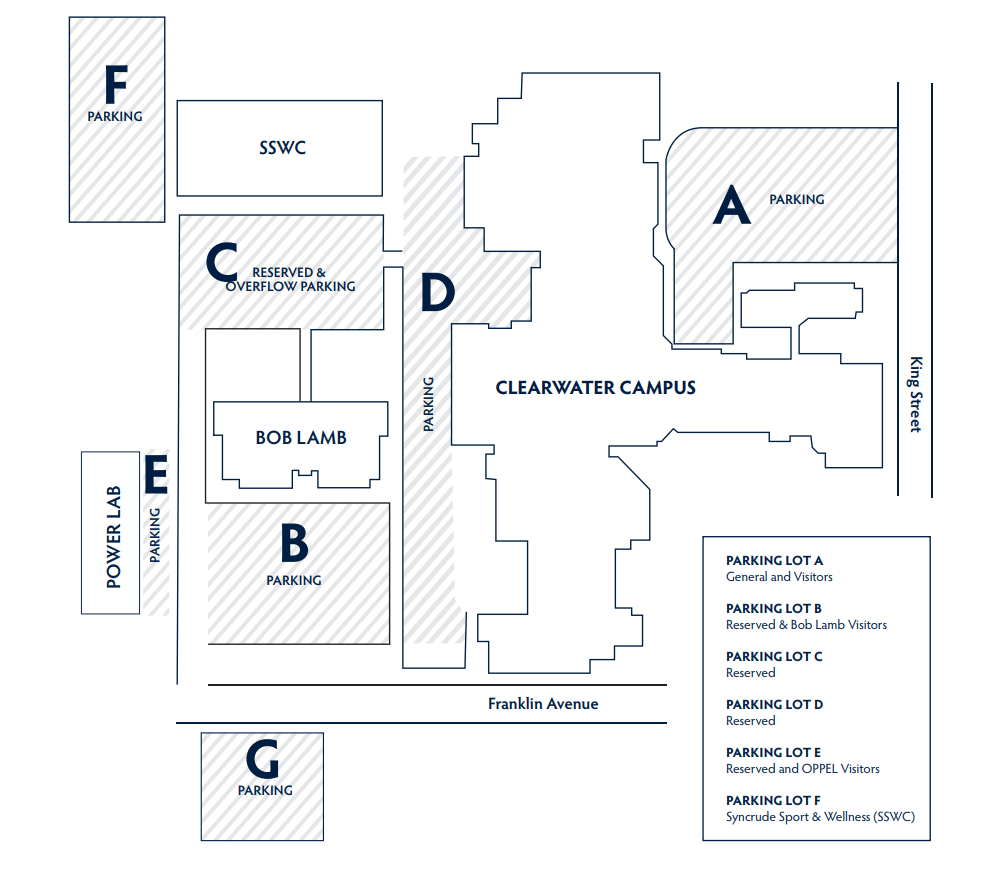 Parking Violation Fines
Pay your parking citation fees online
$40.00
Parking permit not visible or expired
Incorrectly parked vehicle to include:
Sidewalks
Crosswalks
Curbs
Reserved Parking
Anywhere that obstructs traffic or College operations
Misuse of visitor parking by vehicles with parking permits
Unregistered or unlicensed vehicles
Misuse of College roads, parking areas or college premises
$150
Vehicles parked in fire lane
Vehicles parked in disabled persons parking stall
24/7 reserved parking

If your citation goes unpaid for 90 days, the vehicle will be impounded and call YMM Towing at 780-566-7519