Residences and Rental Rates Apply for Housing Residence Life - Frequently Asked Questions
Keyano College family housing is available to all full-time students on a first-come, first-served basis. Our family residences provide affordable housing for you, your spouse and dependents during your full-time studies at Keyano College.
Residences and Rental Rates
Penhorwood Place Townhouses
Penhorwood Place townhouses are located at 9914 Penhorwood St. behind Keyano College and next to the Syncrude Sport and Wellness Centre. The residence is within walking distance to schools, shopping centres, restaurants, public transportation and other amenities.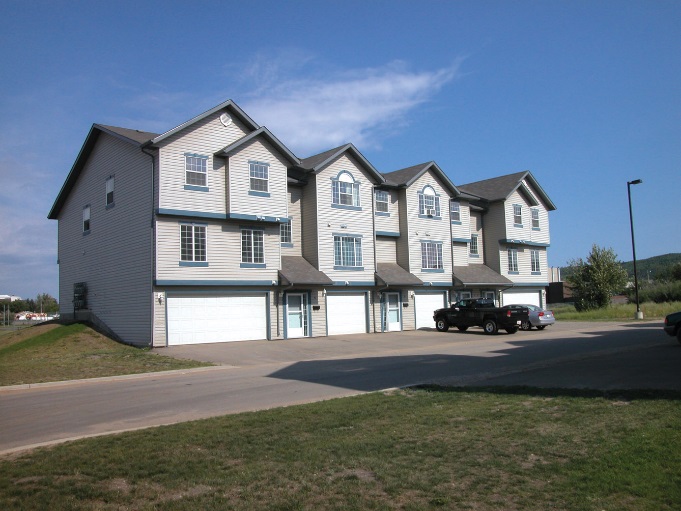 The units are unfurnished and have the following features:
Two or three bedrooms
Kitchen with fridge and stove
Living room
Bathroom
Washer and dryer
Storage room
Garage (optional, at extra cost)
Parking
Residents are responsible for supplying their own furniture, TV, phone, Internet, cable and phone service.
Rental Rates
The table below provides rental rates for family housing units in Penhorwood Place Townhouses. Utilities are not included in the breakdown and must be paid by the tenant in addition to the following costs:
Rental Rates for full-time students

| Unit type | Monthly rent | Monthly water | Damage deposit |
| --- | --- | --- | --- |
| Three-bedroom with garage | $1,093 | $67 | $1,093 |
| Two-bedroom with garage | $942 | $62 | $942 |
| Three-bedroom, no garage | $1,014 | $67 | $1,014 |
| Two-bedroom, no garage | $859 | $62 | $859 |
Find out more about fees and how to pay your rent.
Video Tour
Eligibility
MAXIMUM FAMILY SIZE IS FIVE (5)
"Family" shall mean a couple lawfully married with or without a Child, or two persons in a provable, enduring, continuous relationship for a period of not less than six months with or without a Child, or a single Parent with a Child, or a pregnant person.

You and your listed immediate family are eligible for family housing at the student rate if:
You are registered as a full-time student at Keyano College
Any dependents living with you are under 18 years of age and live with you at least 10 months out of the year
Length of rental term
You can stay in family housing throughout the summer at the full-time student rate if you are registered to return to a full-time program in the Fall semester.
You have 14 days from the end date of your full-time program to move out of family housing. If you stay past this date, you will be charged the non-student rental rate for your location. The program durations (start/end dates) are as per the Academic Schedule.
If you withdraw from your program or switch to part-time status, you will be back-charged at the non-student rental rate for your location.
Please inform the Housing Office of any changes in your student or family status.
Apply for housing
You must complete a Student Family Housing Application to secure accommodations. Please read and print the Student Family Housing Checklist to ensure you have all of the required supporting documentation.
Residence Life - Frequently Asked Questions
Learn more about living in family housing at Keyano College by expanding the sections below.
Moving in
To schedule your move, call the Housing Office at 780-791-4928. Please let us know in advance if you are unable to make your scheduled move-in time.
On your move-in date, please come to the Housing office at 9809 King Street, Fort McMurray AB. T9H 1L3 which is located on the main floor of Clearwater Hall to pick up your keys and sign all required paperwork. We are open Monday to Friday from 8:30 a.m. to 4:30 p.m. Paid parking is available in the main parking lot in front of Keyano Theatre.
Moving out
Please complete these steps to move out of residence. 30 Day notice is required:
Submit a completed Move-Out Confirmation, including a forwarding address
Update your mailing address with your banks, employer, Service Canada, subscriptions, etc.
Cancel or move your cable, internet and/or phone service
Remove all belongings and garbage from the unit
Clean the unit to meet residence inspection standards
Lock your door upon leaving
Return all keys and parking tag (if applicable) to the Housing Office. If after hours, please bring to Campus Security.
If you do not meet these requirements, you may be charged deductions from your damage deposit or invoiced for labour, material or other costs associated with your move.
After-hours key drop-off
If you are moving-out after hours or on a weekend, please put your keys and parking tag (if applicable) in an envelope with your name and unit number, (no room number required for a family unit) and move-out date and hand over to the Security office located on the main campus. They can be reached at +1-780-791-4911.
Your Mailing Address
Mail is delivered to each unit's mailbox by Canada Post. If you receive a package, follow the instructions on the parcel notification slip.
Your mailing address is:
[Insert unit #] – 9914 Penhorwood St.
Fort McMurray, AB
T9H 3N3
Parking
All vehicles parking in Keyano College lots require a parking pass to be displayed in the front window of your vehicle.
Parking at Penhorwood Place is free. However, you need to complete the Vehicle Parking Registration to get a parking pass. Your parking pass is valid at your residence only. Learn more about parking on campus.
Resources and forms