Benefits of Studying at Keyano Programs and Courses Tuition Rates
Keyano College is a comprehensive community institution in the Regional Municipality of Wood Buffalo. Stretching from north-central Alberta to the borders of Saskatchewan and the Northwest Territories, Wood Buffalo is one of the largest municipalities in Canada.
Keyano serves students through its Clearwater Campus and Suncor Energy Industrial Centre in Fort McMurray.
Benefits of studying at Keyano
Small class sizes - Higher quality of learning and more individualized attention
Personable learning environment
Helpful and friendly faculty and peers
Part-time job opportunities within the community
Programs and Courses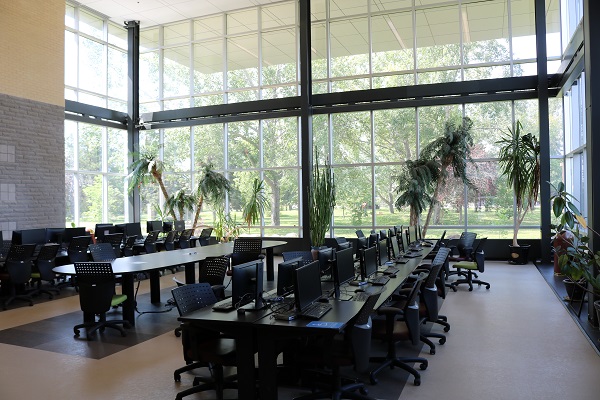 We offer a wide variety of programs and courses to help you meet your academic and career goals.
Our programs and courses are aimed to provide career training that matches the economic needs of the region and province.
Explore our A to Z Program and Course listing to find the right one for you.
Our Most Popular Programs
* 2023-2023 unofficial enrolment as of June 1, 2023.
**Programs provided are based on all full-time programs' enrolment excluding Apprenticeship Program.
Unique Programs
Governance & Civil Studies Diploma: The Governance and Civil Studies diploma prepares students to work in the areas of government, politics and civil society (NGOs) with a special focus on Indigenous politics and governance. The diploma draws on the fields of political science, history, English, philosophy and sociology to enable students to develop skills and knowledge relevant for governance and civil society. This knowledge includes a deep awareness of political and social institutions, systems of governmental decisions making, including parliamentary and judicial systems, the history of concepts and events that shape the modern political world, and the skills to operate within divergent political and governmental systems.
Environmental Technology Co-op Diploma: this program focuses on the environmental issues and solutions related to natural resources. You will learn the skills that you will need for many industry and government environmental positions through this two-year program.
Hospitality and Tourism Management Diploma (Apprenticeship-style): developed with input from industry experts, this innovative apprenticeship-style program enables students to gain practical experience, while learning from and networking with hospitality and tourism industry professionals within the Regional Municipality of Wood Buffalo. Graduates of the Hospitality and Tourism Management Diploma program may pursue supervisory level careers in global hospitality and tourism sectors such as hotels, restaurants, resorts, cruise lines, tourism development and marketing organizations and similar organizations, become entrepreneurs, event planners and tour organizers.
Power Engineering Comprehensive: Keyano College's Power Engineering Programs addresses the critical shortage of Power Engineers in northern Alberta. Keyano College has recently create a new 21-week 4th Class Power Engineering Comprehensive Certificate program for those looking to gain their 4th Class Power Engineering Certificate. Upon successful completion of required 4th Class ABSA examinations, Learners will receive their full 4th Class Power Engineering certificate from ABSA, in addition to receiving a certificate of completion from Keyano College. This new program is a great benefit for students, Industry partners and the College as a whole, as it will increase the number of 3rd Class industry work terms for students as they progress through the program. As well this program increases accessibility as it will now allows for tuition for the power lab portion to be student loan eligible. Additionally, the new program will now be more accessible to underrepresented learners and international students, as well as guarantees a standardized exemplary level of competencies for learners, which provides enhanced program continuity.
Business Administration Esports Management Diploma: A Business Administration Diploma with a specialization in Esports Management will give students the tools needed to enter the exciting world of Esports, one of the fastest-growing markets. Students will gain skills to find a career within the industry as a league administrator, coach, marketer, media content manager, and more.
Business Aviation Diploma: The Business Aviation Diploma program is for learners who are interested in pursuing a career in aviation business operations. This two-year diploma program provides students with business knowledge along with the aviation training compliant with Transport Canada standards. Through the successful acquisition of both a private and commercial pilot's license within the program, graduates may pursue career specializations in Northern Aviation Operations or Airline Operations.
Bachelor of Science in Nursing: This collaborative program with the University of Alberta is a unique program in its emphasis on health and wellness. The program allows students to gain clinical nursing experience each term in a variety of settings (including community and institutional experience).
Bachelor of Education - Elementary Education: This collaborative program with the University of Alberta allows students to gain valuable teaching experience in rural communities while collaborating with local school boards and industry partners to support practicum experiences.
Tuition Rates
Based on the 2023-2024 academic year, below will include all compulsory ancillary fees for the cost of two full-time semesters for a given program (if the program is shorter, this will indicate the cost for the full program).
Please note these are the estimated tuition rates.
Domestic (Canadian) Students
Program
Keyano College

Full-Time Degree Program

**Degree programs at Keyano College are Collaborative and/or University transfer programs.

$5,883
Full-Time Diploma
$4090-$8,1178
Full-Time Certificate
$1,266 - $12,213
International Students
Please view our Credit Calendar for the most up to date tuition rates for international students.