Admission Requirements Tuition and Fees Program Structure
We offer a four-week Haul Truck Operator course, which provides you with the skills and training needed to safely operate a haul truck, based on manufacturers' recommendations and industry standards. The course is made up of theory-based training, computer module training, and practical simulations and exercises.
By completing the course, you will be ready for an entry level position as a haul truck operator in the industry. You may also be eligible for a work placement opportunity with one of our industry partners. This program is sponsored by industry partners North American Construction Group, Suncor Energy and Syncrude.
For more information, view our Haul Truck Operator Frequently Asked Questions (FAQs), email our Haul Truck Operator admissions advisor.
Career opportunities
As a haul truck operator, you will be ready for employment with companies in mining and energy, and construction.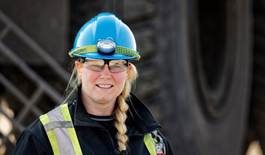 Suncor is actively recruiting Heavy Equipment Operators to work with their team in Fort McMurray. They are looking for people with a strong safety mindset and at least one year of relevant experience with operating equipment. Interested? View the full posting.
Admission requirements
To register for the Haul Truck Operator program, you must provide or obtain:

Before your work placement begins, you must provide or complete:
Tuition and fees
Tuition for the Haul Truck Operator program is $7,066.51 (GST included). We require a $250.00 deposit upon your acceptance into the course.

If you do not receive a work placement, you will be refunded $694.57 for the work placement fee within your tuition.
Application Process
To apply for the Haul Truck Operator program, please send your application and documentation by mail or courier to:
Keyano College
Office of the Registrar
8115 Franklin Avenue
Fort McMurray, AB T9H 2H7
(Please do not email or fax your applications)
Resources
You must provide your own CSA-approved, steel-toed safety boots with an eight-inch upper and anti-skid grips before the program begins.
Program structure
You will take part in a mixture of instructor guided and computer based learning, and use practical simulations to gain necessary training. You may also have the opportunity to take part in a work placement with one of our industry partners. The course is offered monthly between September and June.
Please stay tuned for upcoming intake dates
Current Employment Opportunities
TITLE: 777 Haul Truck Drivers
DESCRIPTION: Thompson Construction Group is currently looking for 777 Haul Truck Drivers for their operations area in Fort McMurray.
RESPONSIBILITIES:
• 777 Haul Truck Driver
QUALIFICATIONS:
• Minimum 1-year experience
• Applicants must be at least 18 years of age
• Possess a valid Class 5 driver's license
• Ability to work in a team environment
• Strong written and verbal communication skills
• Willingness to work in the Ft McMurray area and live in remote camps, working a rotational schedule
• Oil Sands Safety Association (OSSA) Regional Orientation / OSSA Basic Safety Orientation (BSO) or Energy Safety Canada Common Safety Orientation (CSO)
• Ground Disturbance, H2S Alive and First Aid is considered an asset
• Must be in good health and physical condition to perform duties assigned
• Must be able to pass a pre-access drug and alcohol test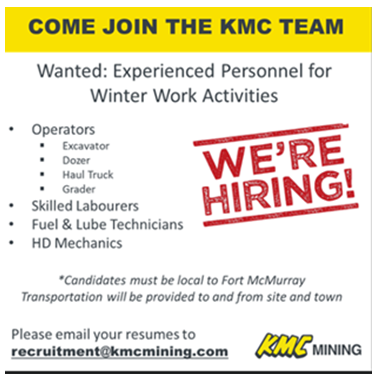 2021 intake dates
January 4 - 29, 2021
February 1 - 26, 2021
March 1 - 26, 2021
March 29 - April 23, 2021
May 3 - 28, 2021
May 31 - June 25, 2021
Course theory
You will successfully complete training and gain the necessary knowledge on:
Work health and safety regulations
Alberta Mine Safety Association Certification
Mining operations
Fatigue management
Resume preparation
Radio etiquette and communication
Computer modules
Our computer module training helps you learn the various components needed to properly and safely handle the program's equipment. We provide instructor resources to help support your computer learning.

The course's modules include:
Brakes System - Testing Procedure
Caterpillar 797 Mechanical Truck
Defensive Driving
Emergency Response
Field Level Risk Assessment
Fire Extinguisher
Introduction to the Oil Sands
Komatsu 930 Electric Truck
Legislation Awareness
Loading - Dumping
Lube and Service
Machine Controls
Noise Hazard
Operator Care
Rules of the Road
Safety
Fatigue Management
Startup - Shutdown
Symbols - Hand Signals
Tire Care
Vital Information Management System
Walk-around Inspection
Practical applications
As part of the practical component, you will engage with Caterpillar 797 and Komatsu 980e mining truck simulators. Using the simulators, you will complete 20-25 hours of exercises and emergency responses.
Schedule and location
The program is conducted at the Suncor Energy Industrial Campus, located at 160 MacKenzie Blvd. in Fort McMurray.
Work terms
After completing the program, you may be eligible for a work placement with one of our industry partners. Work placements are usually three to four months long and are fully paid, with a possible extension (however your program certificate only recognizes a three-month term completion). Rate of pay ranges from $30.00 - $40.00 per hour.
Prerequisites for work terms
If you are eligible for a work placement with our industry partners, you may need to complete various pre-employment tests and provide them to the employer, including:
Medical and drug screening
Personality and employment testing
Criminal record check
Hiring Keyano College students
If you are a company looking to hire a Keyano College student from the Haul Truck Operator program, please call 780-799-8609.
News coverage
In October 2018, Suncor generously donated a 797 Cat® Haul Truck to be used as a static training aide and display. Here is some coverage about the program and our "1.3-million-pound classroom on wheels".
Student testimonials
Brigitte's video testimonial
View Brigitte's video testimonial about the program:
Erika's testimonial
"I took the Keyano course in 2014. I had no knowledge or experience in the mining industry and was looking for a career change.
Having taken the Keyano course, it gave me knowledge, understanding, required safety training and skills to obtain full-time employment. Because of the Keyano course, I obtained full-time employment with Suncor Energy driving heavy haul trucks.
I have now been with Suncor for just over two years and I'm loving my new career. I highly recommend this course!"
- Erika
Jim's testimonial
"I took the haul truck course in January of 2015. The course was a Suncor sponsored course. I am presently working full-time as a heavy equipment operator at Suncor and loving it. I wish I could have taken the course 20 years earlier."
- Jim
Tiffany's testimonial
"I took the Haul Truck Operator course back in 2015. Since then I have been working at Suncor. I got hired full-time and my schedule is six on and six off. I LOVE my schedule, with six days off, plus vacation time and stats you get so much free time to do things such as travelling. It's wonderful.
The fact that this course is only four
weeks long and then you have an opportunity to work with companies such as Suncor and Syncrude is astonishing. You aren't just getting a new job in the end, it's a career that a lot of people dream of having. You can't beat the schedules, the work is enjoyable (nice air conditioned truck in the summer and you get to stay warm in the winter), and comfort in knowing you are setting yourself up for a great retirement!
I think taking the Haul Truck Operator course was one of the best decisions I've ever made!"
- Tiffany
Michael's testimonial
"I took the course in April 2013, did my co-op at Syncrude, Aurora and got hired in July 2014."
- Michael
Shania's testimonial
"After taking the course I was able to immediately go through the testing process for Suncor. I made it through that and was granted an interview shortly after. It was a month or so after the interview I was called back to begin my co-op term with Suncor. Now, two years late I'm still working for Suncor.
The course was an awesome way to get a foot in the door for a wicked career."
- Shania
Current Employment Opportunity
TITLE: 777 Haul Truck Drivers
DESCRIPTION: Thompson Construction Group is currently looking for 777 Haul Truck Drivers for their operations area in Fort McMurray.
RESPONSIBILITIES:
• 777 Haul Truck Driver
QUALIFICATIONS:
• Minimum 1-year experience
• Applicants must be at least 18 years of age
• Possess a valid Class 5 driver's license
• Ability to work in a team environment
• Strong written and verbal communication skills
• Willingness to work in the Ft McMurray area and live in remote camps, working a rotational schedule
• Oil Sands Safety Association (OSSA) Regional Orientation / OSSA Basic Safety Orientation (BSO) or Energy Safety Canada Common Safety Orientation (CSO)
• Ground Disturbance, H2S Alive and First Aid is considered an asset
• Must be in good health and physical condition to perform duties assigned
• Must be able to pass a pre-access drug and alcohol test