Community Adult Learning Program
Eligible Learners Courses Workshops How to Apply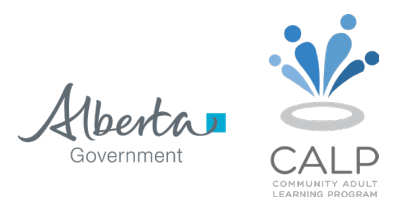 As a key component of Alberta's Adult Learning System, the Community Adult Learning Program supports a network of organizations to deliver FREE part-time, non-formal literacy and foundational learning opportunities.

The Community Adult Learning Program supports over 100 community-based learning organizations who provide Adult Literacy
and Foundational Learning opportunities in over 430 communities in every region of the province. These Community Adult Learning
Programs (CALPs) are supported by the Community Learning Network, who works collaboratively with diverse system stakeholders
and partners, to provide CALP staff with the Professional Development, training and support services they need to advance the
Community Adult Learning Program's vision: Changing lives through adult foundational learning in connected communities


Eligible Learners
All adults 18 years and over who reside in Alberta are eligible to participate in learning opportunities and access service and supports


Courses
English Language Learning
The study and practice of the English language by individuals whose first language is other than English and who are unable to communicate fluently or learn effectively in English. Learners gain proficiency in speaking, listening, reading, and writing in English.
Math Numeracy Learner Paced (Mixed Levels)
Use, apply, interpret, and communicate mathematical information and ideas. Using numbers and thinking in quantitative terms to complete tasks, up to and including pre-GED level.
English Foundations Mixed Level / Pre-GED
Identify, understand, interpret, create, communicate, and use printed and written materials associated with varying
contexts. To develop skills in reading, writing, and/or document use up to and including a pre-GED level.
Workshops
Class 7 Driver's License Test Preparation
Basic Digital Skills - Introduction to Computers, Basics of Microsoft Word/Excel/PowerPoint, Introduction to Social Media
Resume Writing
Budgeting
Family Literacy
How to Apply
The CALP program accepts new students daily from September – June 30.
To register email CALP@keyano.ca or call 780-792-5085.