Keyano Huskies Indigenous Jersey Reveal
Meet the Artist The Jerseys Keyano Husky Indigenous Jersey Video
On Friday, February 18, 2022, the Keyano Huskies revealed their new jerseys with Indigenous artwork designed by Denésoliné artist Emma Voyageur from the Athabasca First Nation in Fort Chipewyan, Alberta.
Voyageur's beautiful artwork was created for the Men's and Women's Basketball, Soccer, and Volleyball team jerseys.
---
Meet the Artist

Emma Voyageur is a 20-year-old Denésoliné Indigenous artist from Athabasca Chipewyan First Nation in Fort Chipewyan, Alberta. Emma has recently relocated to Calgary, Alberta, to pursue art as a career. She plans to graduate with her Bachelor of Fine Arts In 2025 from Alberta University of the Arts.

There are many influences when it comes to Emma's artwork. Her culture, teachings, and past experiences as an indigenous woman inspire her to create her pieces. Many of Emma's beliefs, values, and opinions are shown through different mediums and various styles. Her artwork reflects the stories and beauty of First Nations peoples in Alberta.

Art is very relevant in Emma's life. Beginning at the age of 5, painting and creating art became a passion quickly. Emma always knew she wanted to pursue art and now advocates how hard work can allow anyone to achieve their goals. Having faced countless struggles, Emma uses her past experiences as an Indigenous person to speak about present issues. She is motivated by the history of First Nations peoples in Canada and the history of Fort Chipewyan. She uses the stories passed down to her from her grandparents, elders, and community members to create spectacular works of art. From traditional Indigenous art to realism, Emma brings across deeper meaning into each of her pieces.

Plenty of past exhibitions have been in Fort Chipewyan but Emma is eager to see what she can create now that she is studying what she loves in Calgary. Emma takes pride in implementing her teachings about Indigenous ways of life into her artwork and is excited to incorporate them into her assignments at post-secondary. "My active goal is to honour our elders and be an inspiration to youth who may have a similar passion." Emma's a youth councillor for ACFN in the Treaty 8 Youth Council and plans to bring her knowledge back to her community, the place where she painted her first mural at age 16. Emma was also the only high school student to contribute to the Keyano College Unity mural located at the K'al Tailé Market in Fort Chipewyan. She now has achieved another huge milestone by creating Keyano's soccer, basketball, and volleyball jerseys in Fort McMurray designed to portray the importance of the land in indigenous communities all over Alberta

Inquiries: emma_voyageur@hotmail.com
---
Jerseys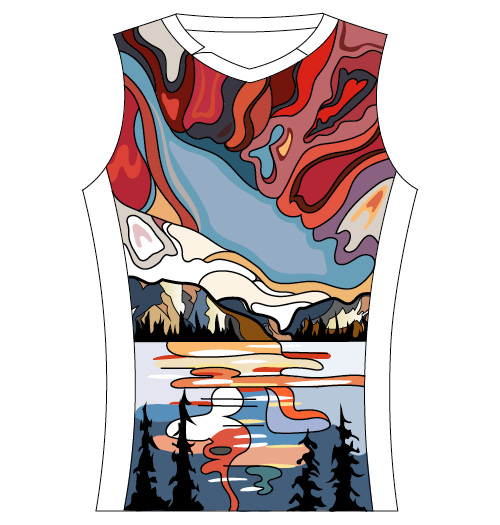 #1 (Red Jersey):
Colours in Indigenous communities/cultures vary from nation to nation. It holds symbolism and is represented in our teachings, political movements, and traditional ceremonies. When creating the jerseys, I initially hoped that each of them would stand out individually but also complement each other; I chose colours that are historically powerful in indigenous culture and are described in our medicine wheel (red, yellow, black, and white). The medicine wheel has many interpretations and meanings embedded within the colours, such as environmental significance and the way Aboriginal peoples see the world and humanity.
#2 (YELLOW JERSEY):
Maintaining a connection to the land is not only Important to my family but to indigenous peoples all over Canada. The land relates to all aspects of life, and environmental health has continually been a vital component of the overall health and well-being of First Nations. The sky, water, and earth have always been intertwined with indigenous sovereignty, spirituality, and way of life. For those reasons, I decided to create a landscape for each of the jerseys; with one dedicated to fire tones, water tones, and earth tones I wanted to show my deep appreciation for the land we reside on and the beauty within it.
#3 (BLUE JERSEY):
Indigenous peoples and communities have always supported one another. Through connecting with our culture we are able to build each other up. In regards to the composition of my designs, I planned for each line to connect with another. The connection and empowerment are the messages behind the Jerseys. They represent hard work, determination, pride, and of course honour. A token of appreciation to our ancestors, those who have allowed us to be where we are today, and those we look up to. These pieces wouldn't exist if it wasn't for my grandparent's strength, my mother's strength. I hope that by my accomplishments I could advocate how indigenous peoples can achieve anything.
---
Keyano Husky Indigenous Jersey Video
See how the jersey's came to be.