What is HyFlex? HyFlex Programs and Courses Syncrude HyFlex Multipoint Classrooms Testimonials
What is HyFlex?
Keyano College is piloting the HyFlex course delivery mode to meet the learner where the learner is. HyFlex allows learners to choose at any given time throughout the course to attend in person (face to face) or virtually. The virtual options may be online real-time (synchronously), online anytime (asynchronously) or both. The virtual options available vary from course to course, and courses implementing HyFlex testing also have HyFlex options.
Vice President of Academics, Frederick Russell said, "After a year of online learning and working from home, we've been able to look at the best practices and how we can improve the learning experience for our students.

"To be able to offer flexible learning makes sense to us as everyone has their own preferences. Students may now choose how they attend their classes on a daily basis. This flexibility will support learners who prefer online learning and those who prefer to be in the classroom. This will support students who work, depend on childcare, and transportation, they can join their class virtually."
HyFlex Programs and Courses
HyFlex options are currently in place for the Power Engineering program and various courses in Childhood Studies, Educational Assistant, Nursing, College Preparation, and Business. HyFlex is a trending mode of delivery in post-secondary education. Please refer to the course description for the virtual option(s) available for a HyFlex course. For more information on HyFlex course options, pleases contact the Office of the Registrar.
Syncrude HyFlex Multipoint Classrooms
Photo Gallery: Syncrude HyFlex Multipoint Classrooms will appear here on the public site.
For programs and courses with HyFlex option, instructors have been teaching from newly renovated Syncrude HyFlex Multipoint Classrooms, equipped with:
Two to Four 86" interactive displays to be used for collaborative learning as well as displaying virtual students. The interactive displays are mounted on height adjustable stands.
In some rooms, 55" displays are suspended from the ceiling.
Ceiling mic arrays and speakers.
Instructor and student facing cameras.
Camera control step mats (one at instructor desk and one near interactive display. When an instructor steps on the mat, the instructor facing camera will pan to a preset area.
Document camera.
Instructor stations equipped with Smart Podium, Room PC, docking station for laptop, Crestron Room Control panel and equipment rack.
The rooms are setup so the instructor can control the content displayed on each display.
Whiteboard.
Moveable student desks and chairs so room can easily be reconfigured.
Instructor sit/stand desk.
Testimonials
Lisa Turner - Chair, Education and Academic Upgrading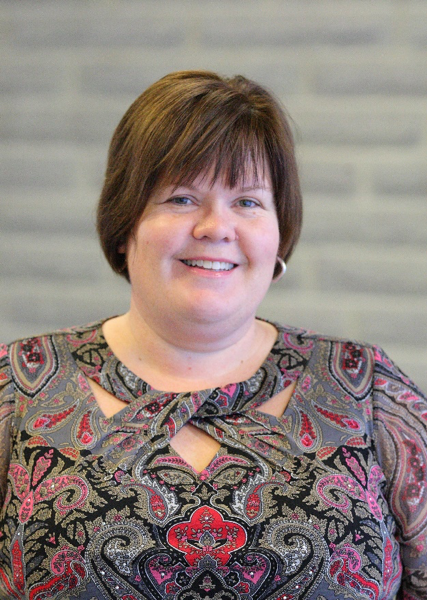 "I have had the opportunity to teach online in a variety of different platforms. My online teaching experience has evolved from using Elluminate, Collaborate, Adobe Connect, Zoom, and now HyFlex. The best part of HyFlex is that the modes of delivery are entirely student-driven. Students have the option of choosing to attend face-to-face or join the class synchronously using Zoom. Creating a well-developed course and establishing a community of learners are two critical aspects of my approach to teaching HyFlex.
HyFlex provides great accessibility and flexibility for learners. When it was too cold for vehicles to start or the roads weren't the best for travelling, students would opt to join class virtually instead of coming to campus. One of the highlights of this year was having a student who joined the Zoom class in the morning and listened to the class while she drove her children to school. Once they were settled in school, she then came to class and participated in the class face-to-face. She appreciated the flexibility of delivery and was able to ensure that her learning didn't suffer.
This mode of delivery has stretched me and contributed to my growth as a teacher. It has prompted me to actively reflect on new and different ways to engage students in both modes of delivery as well as discover ways to create 'one' community of learners in my classroom.
With continued support in the area of teaching and learning (as well as technological support), HyFlex can provide a flexible and accessible option for students to pursue a variety of educational opportunities."
Over the next two years, Keyano plans to open several replicated classrooms funded by Syncrude. We would like to thank Syncrude for being a supporter of Multipoint Classrooms to support the HyFlex delivery model.