Everyone is welcome to audition for Keyano Theatre Company - no prior experience is necessary.
Upcoming Auditions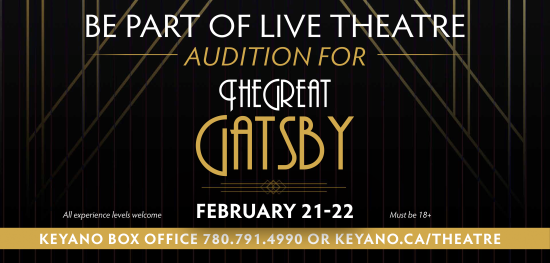 Join the magic on stage at Keyano Theatre and audition for The Great Gatsby directed by Michelle Thorne.
Auditions will take place on February 21-22, callbacks will happen February 23. All experience levels are welcome and you must be 18 years or older to tryout. Visit our sign-up page to book an audition time.
For more information contact the Keyano Box Office at 780-791-4990 or email auditions@keyano.ca
Auditions are held at Keyano Theatre & Arts Centre, 8115 Franklin Avenue.
For the latest updates keep in touch with Keyano Theatre on Facebook and Twitter .
Keyano Theatre Company
Keyano Theatre Company (KTC) is a volunteer company of real people, real stories and real performances enriching the spirit of community theatre. It is committed to providing meaningful, relevant and quality entertainment. Share the experience and celebrate with us!
Keep in touch with the Keyano Theatre Company on Facebook