Clue: On Stage by Keyano Theatre Company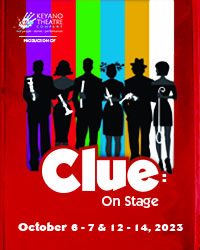 Get ready to solve the mystery! Keyano Theatre Company is excited to announce auditions for their upcoming production of Clue: On Stage. Based on the classic board game and movie, this production promises to be a thrilling and hilarious experience for both the cast and the audience.

Auditions will be held on July 28 and 29, with the production scheduled for October 6, 7, 12 - 14. Roles available include the ensemble, Wadsworth, Yvette, Miss Scarlet, Mrs. Peacock, Mrs. White, Colonel Mustard, Professor Plum, and Mr. Green. We encourage anyone over the age of 16, regardless of experience or skill level, to audition.

Don't miss your chance to be a part of this exciting production. We can't wait to see you at the auditions!
For more information, you can reach out to auditions@keyano.ca or 780-791-4990.