The volleyball season runs from September to February each year. Follow our schedule and standings through the Alberta Colleges Athletics Conference (ACAC). Stay up-to-date throughout the season by following our team statistics.
If you would like to try out for the team, contact Coach Kira Sutcliffe.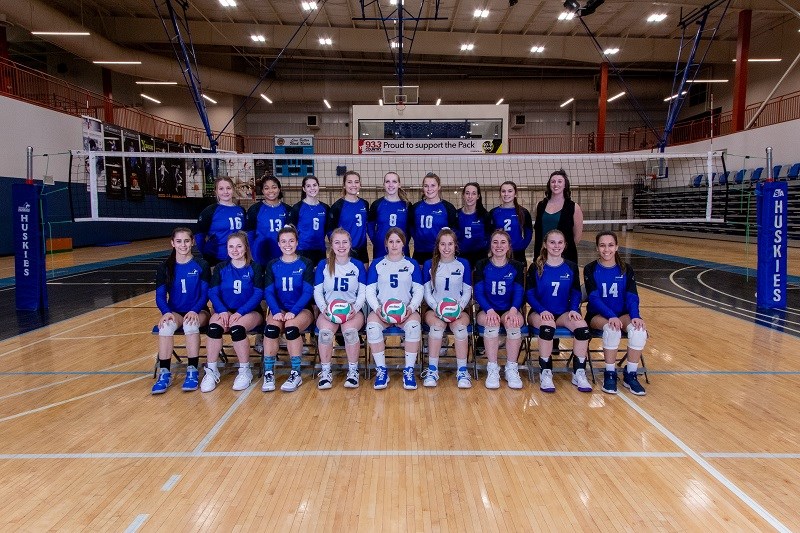 Women's Volleyball Team Roster
Name
Position
Height
Year
Program
Hometown
Abigail
Vandop
Middle Blocker
6'2"
1
Nursing
Chilliwack, BC
Ainsley
Wolstenholme
Libero
5'6"
1
Nursing
Grande Prairie, AB
Amber
Francis
Middle Blocker
6'1"
1
Education Assistant
Fort McMurray, AB
Beatriz
Goncalves
College Prep
Faith
Grant
University Studies
Harlee
Cameron
Outside Hitter
5'5"
3
Business Admin
Bonnyville, AB
Izabela
Lukawski
Middle Blocker
5'11"
1
Secondary Education
Vancouver, BC
Jamie
Ferns
Outside Hitter
5'9"
2
BSc Nursing
Fort McMurray, AB
Jamie
Stokes
Setter
5'7"
1
College Prep
Fort McMurray, AB
Jersey
Switzer
Outside Hitter
5'8"
1
Business Admin
Grande Prairie, AB
Kally
L'Heureux
Practical Nursing
Kayla
Wandowich
Outside Hitter
5'7"
2
Business Admin
Winnipeg, MB
Lauren
Huntley
Outside Hitter
5'11"
2
Elementary Education
Calgary, AB
Mackenzie
Stokes
Setter
5'3"
3
Social Work
Fort McMurray, AB
Marlo
Rathmann
Middle Blocker
5'9"
2
Social Work
Seba Beach, AB
Milena
Skrbic
Business Admin
Raisa
Stokes
Libero
5'5"
2
Elementary Education
Fort McMurray, AB
Our coach
Head Coach, Kira Sutcliffe, joined our volleyball program July 2019. Kira played five years of Volleyball for Capilano University in North Vancouver. During her playing career she was a two time CCAA All-Canadian athlete, two time Capliano Blues Female Athlete of the Year, and twice was Pacwest Championship Tournament All-Star. Once she completed her post-secondary playing career, she went to Copenhagen, Denmark to play one year professionally.
Photos
Check out some photos of our team in action: